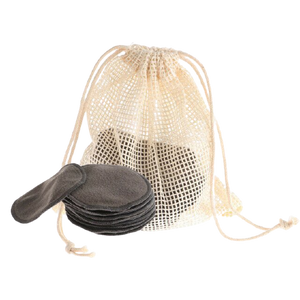 Create a waste free makeup removal routine!

Reusable Bamboo Makeup Pads which is going to be a game-changer product which promotes sustainability of the environment.

The Organic For You strives to make things that changing the amount of trash a family produces. We are on a mission to bring more reusable products into homes by making them practical and beautiful. When you buy and use a reusable
product, you are showing your children how to care for the world they will inherit.

Saturate a Reusable Cotton Round with any liquid skin care product and gently apply to your face and neck. After each use, place inside the mesh bag and wash on the gentle cycle with your delicates.

Material for the Reusable Pads:
(70%) bamboo viscose and (30%) cotton fiber /  3" diameter (7.62cm diameter)

70% Bamboo Fiber: Dries faster and has natural anti-bacterial, UV protectant properties, stronger tensile strength. Requires less pesticides and water to grow than industrial cotton.
30% Cotton Fiber: Provides soft hand feel and boosts the absorbency of the bamboo pad, has stronger liquid absorbency than bamboo. Organic cotton minimizes pesticide use during farming.

Cotton Mesh Bag

100% cotton / 4.5" W x 5.5" L (11.43cm W x 13.97cm L)

Simply put the used Facial Rounds in this mesh bag for machine wash and dryer. Durable enough to reuse up to 500 times.

Care
Reusable facial makeup remover bamboo pads are a great way to help sustain the earth, but you must make sure to clean them properly. Reusable Face Pads really need a regular rinse and lather. As you use them, they become soiled—in some cases heavily soiled—with oil, dirt, and makeup. Look at them like mini towels, and treat them as you would treat any towel or wash cloth. Use them only once, and wash them along with your other linens NOT with towels. We suggest sticking with fragrance free detergent with a neutral pH to make it gentle on the skin and using a minimal amount when you wash your pads. Make sure not to overload your washer with detergent, as overdosing can cause detergent to get trapped within the fibers of your pads that can cause direct irritation of the skin.

These statements have not been evaluated by the FDA. All content provided is meant for educational purposes only and is not intended to be used for diagnosis or as a substitute for the advice of a professional healthcare provider. If irritation is experienced, discontinue use.